Volatile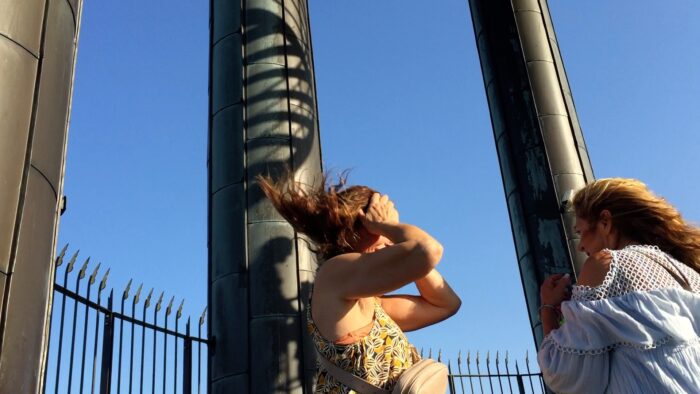 Synopsis
'Volatile' ist a short experimental movie edited around the fake synthetic music, done with the voice only, of Stine Janvin and her track 'Glitch'. The film is made with images collected over a year on the idea of volatile, a term which covers in French both the volatility in chemistry and everything which flies, blow or is related to the air. Building an abstract narrative which mixes natural and artificial elements as the music of Stine Janvin does, 'Volatile' is also a contemporary portrait of cities landscapes in their tension between nature and urbanization.
"Playful, montaging images of flight, Volatile is visually quick-witted and constantly in motion, as its electronic sounds created with the voice rise to a frantic and unnerving pitch."
— Rhea Storr, programme notes for Potent grounds, fantastic skies, Alchemy Festival, 2021.
Credits
Volatile (Germany, 2019, 9'47)
Film by Marie-Pierre Bonniol (images, editing), additional images by Etienne Arras
Music: GLITCH by Stine Janvin, extract of Fake Synthetic Music, PAN, PAN 84, 2018
A production of Studio Walter, Berlin, 2019
Official selections
2021 FLIGHT – Mostra internazionale del cinema, Genova, Italy
2021 Das Film Fest / Oregon State International Film Fest, Oregon, USA
2021 Alchemy Film & Arts festival, Hawick, UK
2021 Coal City Film Festival, Lagos, Nigeria
2020 Soberanía Audiovisual festival, Buenos Aires, Argentina
Screenings
2023 Non-Event / Goethe-Institut Boston, Boston, USA
2021 Cafe OTO, London, UK
2021 Short Nights of Berlin / Kino Central Mitte, Berlin, Germany
2020 Offenes Neukölln, Berlin, Germany
2019 Dampfzentrale, Bern, Switzerland (with Bohren & der Club of Gore, premiere screening)
2019 Semaine du Bizarre / Théâtre Berthelot, Montreuil, France (preview)
Press
2019 A99re9at, Bern, Switzerland (interview in German)
Distribution
Studio Walter, Berlin, Germany – mpb@studiowalter.com
Still image: Volatile, Marie-Pierre Bonniol, 2019 © VG Bild-Kunst, Bonn