The Surface and the substance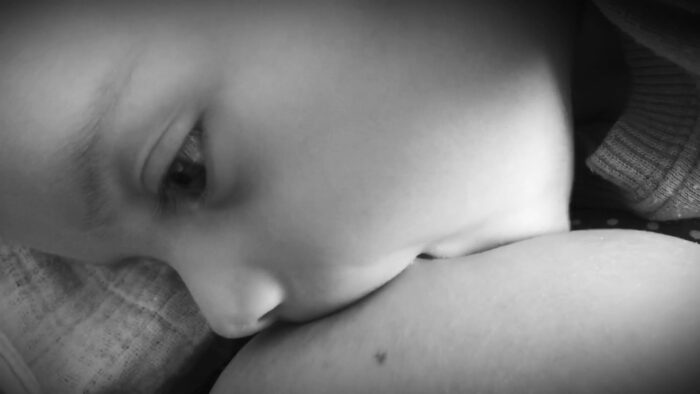 Synopsis
A bachelor machine of two bodies that are not yet totally distinct. Film dedicated to Jean-François Lyotard.
Credits
Film by Marie-Pierre Bonniol
Music: David Cunningham, Water Systemised, 1976 – Excerpt from Grey Scale, Piano 001
Production: Studio Walter, Berlin, 2018-2019
Text
"The Surface and the substance is a video I filmed in Berlin in 2017 while breastfeeding who I knew would be my last newborn. I had the knowledge the experience wouldn't happen anymore and I wanted to fix both that experience as a film, but also my point of view as a feeder which was something I was not finding at the time in films. This video was a way for me to give a figure to our two bodies yet not totally distinct, forming a closed circuit and an organic form of bachelor machine, made of the surface of our skins and the circulation of substance between the two of us, the complete giving becoming complete abandonment. The music used for the video, based on recordings of a water system, is extracted from the first album (Grey Scale, 1976) of David Cunningham, also known for being the founder of The Flying Lizards. This video premiered at ZKM Karlsruhe in 2019 and was a finalist of Bideodromo experimental film and video festival in Bilbao in the same year. Due to its intimate content, The Surface and the substance has been rarely shown since the conditions for showing the video are rarely met."
— Marie-Pierre Bonniol, January 2023
Official selection
2022 FemFilm Oslo
2019 Bideodromo International experimental film and video festival, Bilbao, Spain / Finalist (catalogue)
Screenings
2019 ZKM, Karlsruhe, Germany (premiere)
2019 Lisbon Art Center & Studios, Lisbon, Portugal
Collective exhibitions
2022 galerie asterisk * / Haus am Kleistpark, Berlin, Germany
2020 Dialogues Nerveux et rebondissants / E/laboratory, Paris, France
Distribution
Studio Walter, Berlin, Germany – mpb@studiowalter.com
Please ask us for getting a link for the video if interested!
Still image: The Surface and the substance, Marie-Pierre Bonniol, 2019 © VG Bild-Kunst, Bonn