Posted: April 17, 2018
Filed under: Exotique, Lieux et espaces autres, Pierre Bastien tapes, Rock et amour
| Tags: Chine, Collection Morel, Court-métrage, Discrepant, Documentaire, Festival Tomorrow, Film, Julie Tippex, Mariette Auvray, Pierre Bastien, Pierre Bastien tapes, portrait, Shenzhen, The Quietus, vidéo
Comments Off

on Impressions de Chine
"Impressions de Chine", portrait de Pierre Bastien par Mariette Auvray dont j'ai initié et produit le tournage, est désormais en ligne sur Vimeo ! Il a également été lancé sur le site de The Quietus à l'occasion du concert de Pierre Bastien à Londres au Café Oto ce vendredi 20 avril pour le festival Discrepant | L'annonce sur The Quietus | La vidéo
---
Posted: December 14, 2017
Filed under:
Musiques imaginaires
| Tags: Ausklangfestival, Beauté des mirages, Discrepant, Hamburg, Hoerbar, Olivier Prieur, The Dead Mauriacs
Comments Off

on The Dead Mauriacs à Ausklangfestival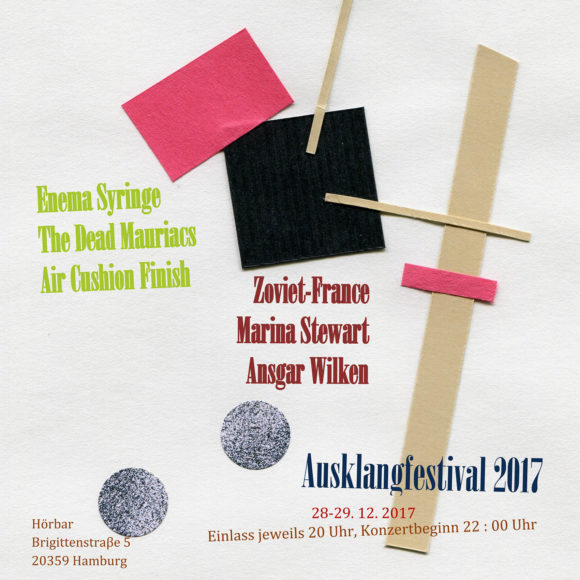 French Dead Mauriacs will perform at Hoerbar in Hamburg Thursday December 20th within Ausklangfestival 2017 with Zoviet-France and other curiosities. Very looking forward discovering live their Exotica-Meets-Concrete-Music that I've been listening too a lot in the recent months. A text I wrote about them, back in May, for the St.Gallen Imaginary musics event :
"In the garden of sighs, there's only one stairs", "Cocktails for the end of times", "New exotic functions", "Saturnalia" … With record titles written as in an imaginary library index, Olivier Prieur's Dead Mauriacs have been exploring since 2009 the crossed spaces between music, literature and visual art, composing music as if it was a collage, and drawing as if it was a musical composition, with certain works dedicated to Jean Arp or Houdini. "The Golden Age of Artificial Inflatable Islands Or Ecstatic Free Love in a Ballardian Dystopia" is one of the multiple records of this secret formation, a sold out box-set of exotic concrete music accompanied by a fiction, setting the action of the record on an inflatable and motorized artificial island, where italian musicians meet GRM members."
---
Posted: June 5, 2017
Filed under: Exotique, Musiques imaginaires
| Tags: Beauté des mirages, Bobby Lyle, Discrepant, Marc Leclair, Musique pour 3 Femmes Enceintes, Playlists, Temple at Nara, The Dead Mauriacs
Comments Off

on Beauté des mirages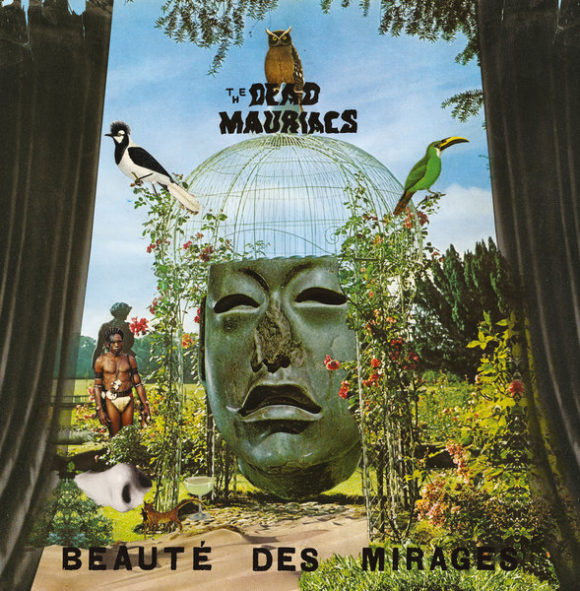 Sortie le 30 juin de "Beauté des Mirages", deuxième disque de The Dead Mauriacs sur Discrepant | Artwork : Evan Crankshaw | Également à l'écoute : Marc Leclair, « Musique pour 3 Femmes Enceintes » (Mutek, 2005), Bobby Lyle "The Temple at Nara" (CBS/Sony, 1973), Windows 98 Startup Sound, Tolouse Low Trax, toujours.
---