Posted: January 4, 2017
Filed under:
Rock et amour
| Tags: 2016, Julie Tippex, Tops Tippex
Comments Off

on Les playlists Julie Tippex sont en ligne !
Les playlists Julie Tippex pour 2016 sont en ligne ! La mienne :
One family band : Vulfpeck – extract : Dean town (Vulf records, 2016)
One track : Joasihno – Bell games (Alien Transistor / Morr Music, 2016)
One album : Nicholas Desamory –You Only Need To Know How It Feels To Believe (Staubgold, 2016)
An other album : Borja Flames – Nacer Blanco (Marxophone Records / Le Saule, 2016)
One concert : Zeitkratzer, Svetlana Spajić & Friends (HKW, Berlin, January 2016)
One earworm : Kraus – Dear Giulietta (self-released CDR, 2004)
One anthem : Lew Davies And His Orchestra – Hold me (Enoch Light / Patterns in sound, 1966)
One French record : Jac Berrocal – Hôtel Hôtel (Nato, 1986). Extracts : Minuit La Nuit, Azur
One Soundcloud : Hassle Hound (Glasgow)
One playlist : Jean-Jacques Palix – Méta-musique pour poussières célibataires (Collection Morel, 2015)
One exhibition : Collection Morel – Les machines célibataires (Le lieu unique, Nantes, 2016)
One program : The Fantom Cinema (The Old Hairdresser, Glasgow, April 2016)
One artist book : Dominique Gonzalez-Foerster – 1887–Splendide Hotel (Onestar Press, 2014)
One anthology : Richard Brautigan – C'est tout ce que j'ai à déclarer (complete poetry, Le Castor Astral, 2016)
One place and neighbourood : Fonoteca Nacional de México, Mexico DF
One hell of adventure : Moscow, June 2016 / Telex – Moscow Disco (Hansa International, 1979)
One hidden place : Casa Almiral, Barcelona
A German hit : Ideal – Schöne Frau Mit Geld (Eitel Optimal, 1982)
A weirdo disco treat : Jean-Pierre Massiera – The Last Tourment (Mucho Gusto Records, 2008, rerelease)
One photo : Love Supreme Jazz Festival, Brighton
---
Posted: April 3, 2016
Filed under:
Enfances berlinoises
| Tags: 2016, Berlin, Treppenhaus, Un grand début de printemps, Walter
Comments Off

on Walter (Treppenhaus)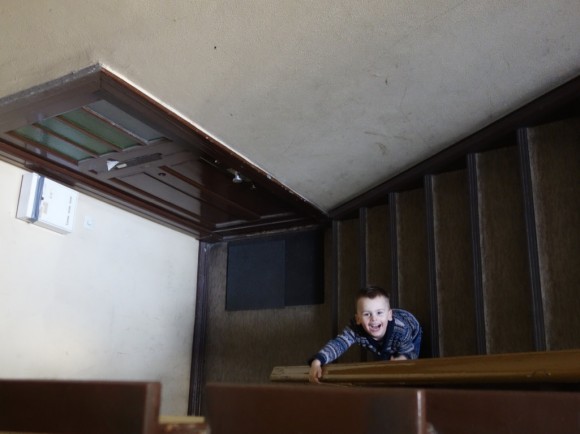 ---
Posted: August 26, 2014
Filed under: Lieux et espaces autres, Machines célibataires et dispositifs
| Tags: 2016, A. Jihel, Collection Morel, JLC, Machines célibataires, Michel Carrouges
Comments Off

on Galeries des machines célibataires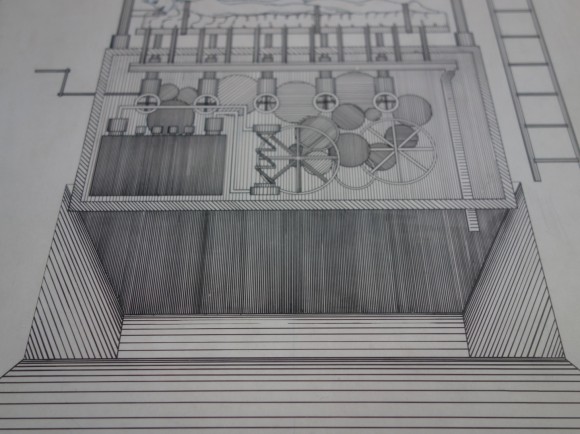 Retour de périple et de maisons à soupiraux, je rentre à Berlin avec la confirmation d'une invitation, en 2016, a présenter la prochaine étape de Collection Morel qui portera, cette fois-ci, sur les machines célibataires et les objets imaginaux, 40 après la réédition du livre de Michel Carrouges au Chêne, et de l'exposition d'Harald Szeemann aux Arts Déco. De nouvelles Rencontres Morel auront lieu sur ces thèmes, ainsi qu'une programmation et des projets d'édition. Pour participer à la réflexion : contact@collection-morel.com.
Dessin : A. Jihel, Franz Kafka, La colonie pénitentiaire in "Les machines célibataires", Michel Carrouges, Le Chêne 1976. Planche originale, rotring et carte à gratter.
Fonds Michel Carrouges / Remerciements : Jean-Louis Couturier.
---